2022 Four Seasons Maui Food & Wine Classic Features Michelin Star Chefs
Photo courtesy of Four Seasons Maui
There are countless reasons to visit Maui right now, from long stretches of sandy beaches to fresh seafood and tropical fruits, to the treacherous Road to Hana. Sharing space on this list is Four Seasons Maui, a resort nestled against 15 acres of the Wailea coast. Luxe amenities are a given, including an adults-only infinity pool that overlooks the endless waves of the Pacific Ocean and an award-winning spa offering treatments ranging from ozone therapy to Hangover IVs in collaboration with Next | Health. However, it's the resort's culinary program that stands out as one of the biggest draws, with an annual food and wine classic – back after a three-year pandemic hiatus over the weekend of the Labor Day Sept. 2-4 – well worth planning your trip. .
Home to three of Hawaii's most renowned restaurants, including Ferraro's Bar e Ristorante, Spago Maui, and DUO Steak and Seafood, it's no surprise that FS Maui's dedication to fine dining carries over to the resort's broader programming. Seasonally inspired newcomer to Cara Restaurant in Los Angeles, Executive Chef Michael Patria draws inspiration from the island's bounty of produce, making it a point to work with local producers like Oko'a and ONO Farms . Customers can even travel with the chef to ONO. Farms as part of the resort's A Taste of Island Life experience, which includes a private tour and exotic fruit picking with the farm's founders and ends with a meal prepared by Patria from ingredients chosen over the course. experience.
"Coming from a family that relied heavily on community support for our local farm, it's very important to me that we support Hawaiian growers," says Patria. "We use local farms and fishermen when possible, really focusing on bright, clean foods that match the environment we're in."
Likewise, the Fire & Wine experience offers a chance to meet Yeshua Goodman, a local fisherman, owner of Kiawe Outdoor and an advanced sommelier who will dip and toss your dinner before cooking it over an open flame and guiding you through it. a blind wine pairing. . This experience also includes a private Haiku House tour for resort guests only, offering the chance to explore the 20-acre former sugar cane plantation turned botanical museum with an expert.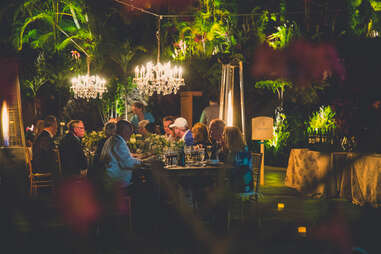 "One of the best things about food is that it's a natural way to learn about other cultures and it's also one of the easiest things to share of a culture," says Patria.
That's the intention of this year's Food & Wine Classic, named "Best of the Best New Wine Festival" by Robb Report when it debuted in 2019. This edition promises to be even grander and more over-the-top, in partnership with "the wine therapist". to the Stars" and President of Wally's Wine & Spirits, Christian Navarro, to bring together a diverse range of chefs from all regions and generations.
"As well as bringing in Michelin-starred chefs like Wolfgang Puck and Josiah Citrin, we've brought in Chef Rashida Holmes, who brings a Caribbean flair to things, and we also have Chef Sheldon Simeon, who is a local favorite here. We have assembled a group of people who will all learn from each other while presenting a wide variety of different cuisines, styles and types of food for our guests.
As Patria explains, the focus on California-based chefs is coincidental, but fitting. "Wolfgang Puck is obviously a master at merging California cuisine with Pacific Rim, plus he has Spago here on the property, so it worked out really well. California cuisine really lends itself to so many different influences , and I feel like that's something the state has in common with Hawaii. We have all these different cuisines and beautiful local farms that produce fresh ingredients and great produce, things on which Californian chefs matter a lot, and the cuisines go together extremely well.
Between activities that range from lunch with Rashida Holmes, owner of Bridgetown Roti, to an elegant Champagne brunch where Patria and Executive Pastry Chef Alexadre Chersouly will deliver opulent brunch classics with a twist, your date card will be stacked for Labor Day weekend. But if there's one event to highlight on your calendar, it's the opening gala on Friday, September 2, an intimate soiree and grand tasting on the resort's beachfront lawn where guests mingle with chefs and winegrowers.
"We will feature our pastry chef, myself, and all of our celebrity chefs and winemakers who will be coming. You will be able to try all the different food offerings and all the amazing wines we are going to have. It will be a delicious sample of all the great experiences you will have throughout the weekend," says Patria.
Summer is right around the corner (no doubt due to our planet's faster pace), so don't delay in booking your stay at the Four Seasons Maui for the annual Food & Wine Classic. Who knows, you might find yourself on a flight with Hawaii native Jason Momoa.
Want more Thrillist? follow us on instagram, TwitterPinterest, YouTube, TikTok and Snapchat.
Danielle Dorsey is the West Coast Editor for Thrillist.