BOS Wine Pushes the Boundaries of Michigan's Wine Scene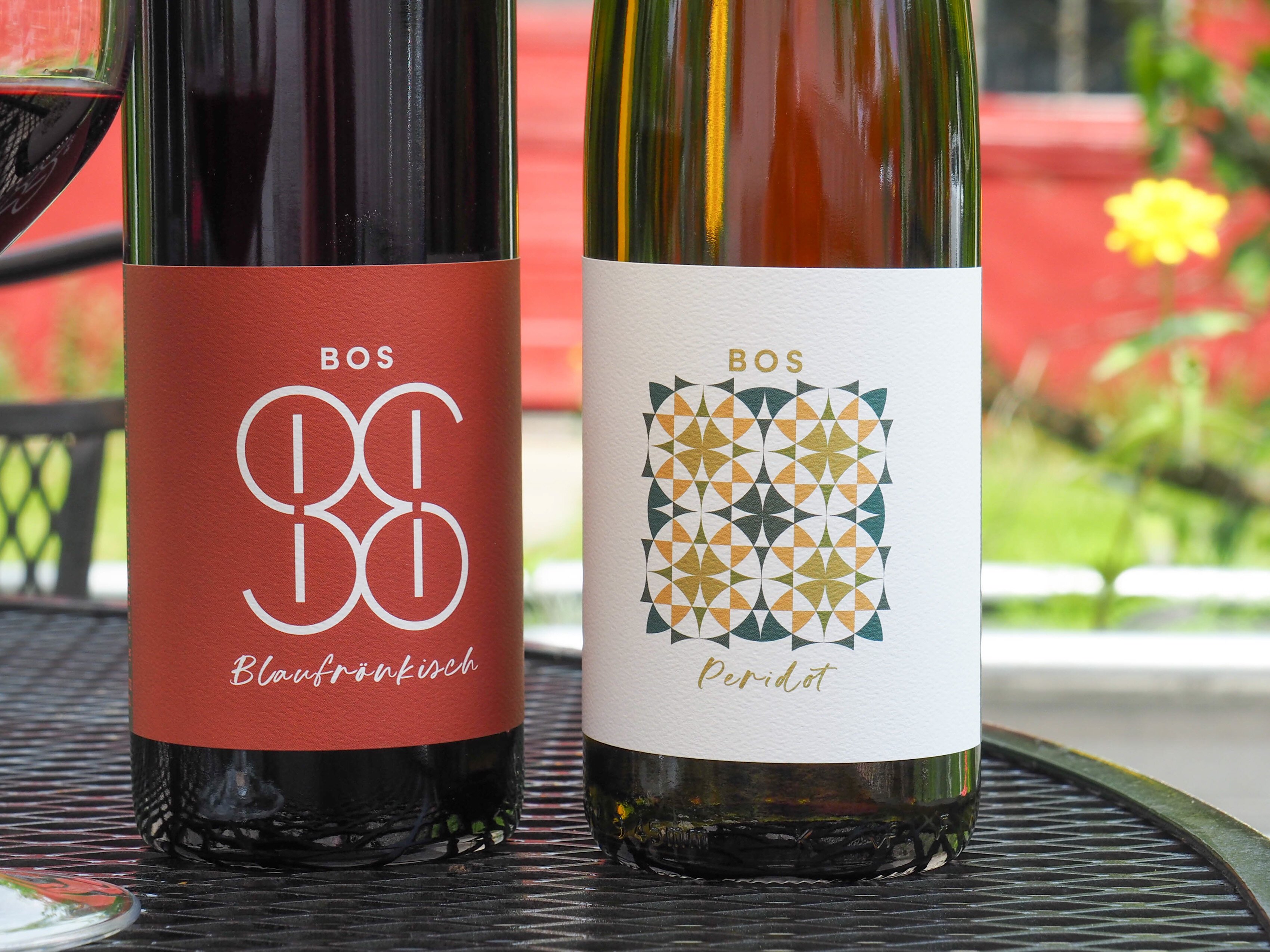 In Michigan's still young but growing wine industry, there's always room for people who want to try something new, challenge the norm, and push the envelope.
Include BOS Wine among these innovators. New to the state's thriving wine scene, with a tasting room off the beaten path, BOS Wine offers guests something entirely new: a menu that showcases Michigan and California wines, as well as than seated tastings (so far, a fairly new practice among tourist wineries) at its location in Elk Rapids.
If the inclusion of Californian wines raises any eyebrows, consider that owner David Bos has spent a lot of time in Napa Valley, tending to famous wineries, as well as in Michigan, where he began learning viticulture and more. Again. The common denominator between California and Michigan wineries is the farming practices; Bos is both a practitioner and an advocate of biodynamic agriculture (more details below).
Dave Bos and his wife, Jackie, moved to northern Michigan four years ago. Their winery produces outstanding red, white and sparkling wines with grapes grown on the Old Mission and Leelanau and Interlochen peninsulas (outside of Traverse City) and the Napa Valley. This is the story of BOS Wine.
Where is the tasting room: BOS Wine is located on Ames Street in Elk Rapids, just off Route 31. The renovated farmhouse, once a coffee shop, seats just 22 people. Reservations are recommended but walk-ins are welcome. Customers can choose from a few different wine tastings, pairing experiences, or just a glass of wine. The tasting room also offers a variety of dips made by a local chef and charcuterie boards. "We like to push boundaries," says Jackie Bos, who designed the company's wine bottle labels. "We place great importance on the wine tasting experience and our wine club. We want people who come here to be part of the wine club and learn about the farming process, learn where the grapes come from. Wine is like art on the walls. Wine is an art form.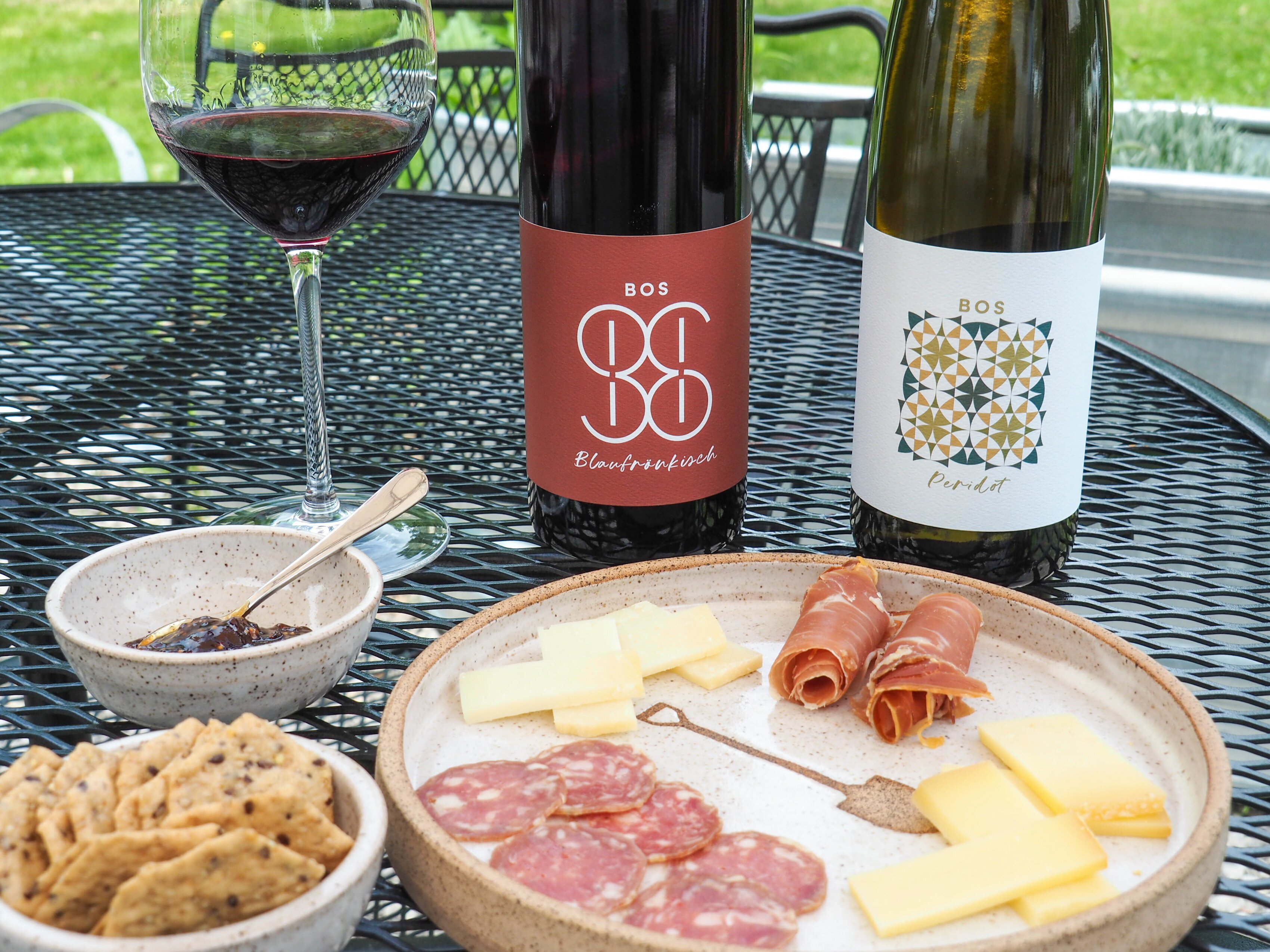 A sunflower garden – which is also planted with other flowers and herbs – behind the farmhouse is also open for tastings. "The BOS Wine Garden gives us a great way to talk about agriculture and what we're doing with biodynamics," says Dave Bos. "It's as if a chef were tasting and talking about arugula or fresh carrots from the garden, all grown biodynamically. There is such a difference in taste and quality, and it is the same with wine.
How BOS Wine differs: It's not just their growing methods that separate BOS Wine from other Michigan wineries. The pair also work with producers in California and Michigan to produce their portfolio of BOS wines. These are vineyards that Dave Bos knows intimately and whose owners also practice biodynamic agriculture. Producing and serving Michigan and California wines is a business model unparalleled in the Great Lakes State.
How they got to northern Michigan: The couple met in California and got married in 2008. Their passions and talents came together and they started a winery consulting company. Having access to high quality fruit, it wasn't long before Dave and Jackie started producing their own wine – their first vintage, a California Syrah in 2010 – and started planting the seeds to create their own winery. Looking for where they wanted to raise their family and grow their business, Dave and Jackie began looking for property outside of Napa Valley. They dreamed of being part of a younger wine region, where they could play a role in influencing quality winemaking and farming practices. Frequent visits to northern Michigan on family trips and strong ties with winemakers here and others convinced them to settle outside of Traverse City.
What is biodynamic agriculture: Dave Bos learned about biodynamic agriculture while tending the vineyards of Napa Valley. A form of organic farming, biodynamic farming eschews pesticides and chemicals, turning to the farm's natural composting materials to nourish the soil. Biodynamic methods, says Dave, bring health and vitality to a farm. They involve composting, planting cover crops and using biodynamic preparations – made from grasses, minerals and manure – in field sprays and compost to influence the soil. It's also about working with the rhythms of nature and learning that tasks like planting and pruning are better on some days than others.
Spread the word: Since returning to Michigan, Dave has worked with other vineyards, including Mari Vineyards on the Old Mission Peninsula, where all 70 acres of vineyards have been converted to organic farming. Sharing the message begins in the tasting room or in the garden. Dave Bos also collaborates with local farmers, who are taking healthier steps in growing crops.

The winery also sponsors DIG Night, an in-person and virtual discussion on biodynamic agriculture, with winery owners, restaurateurs and others focused on producing quality produce in Northern Michigan. "Michigan is getting greener," says Dave Bos. "Many organizations in Michigan are looking to get greener…if you look at some of the best wineries in the world, a lot of them are biodynamic farming. Many people see the benefits of biodynamic farming. He took diseased vineyards and made them healthy again.
Wines: The BOS portfolio includes sparkling, rosé, white and red wines. White wines are produced from grapes grown in northern Michigan vineyards. The reds are sourced from vines in Mendocino County and California's Napa Valley. The first Northern Michigan red to feature in BOS Wine's portfolio is a blaufränkisch from Vineyard 15 on the Old Mission Peninsula. Not surprisingly, customers often come to the tasting room with biases against Michigan and California wines: "I get people who say, 'I really don't like Michigan wine or I don't like California wine," he says. "I say, 'Why not?' Let me tell you about Michigan wine. Let's talk about California wine. It's part of our history, part of our narrative.
And after: BOS Wine celebrates its first anniversary in September. Jackie Bos says the pair strive to continue to provide a great experience for "everyone who comes here for the tasting experience". They also prepare the garden for the season. "The garden is a great place to come and taste BOS wine and listen to our story," she says. "There will always be something in bloom until frost."