It's taco time | Coeur d'Alene Press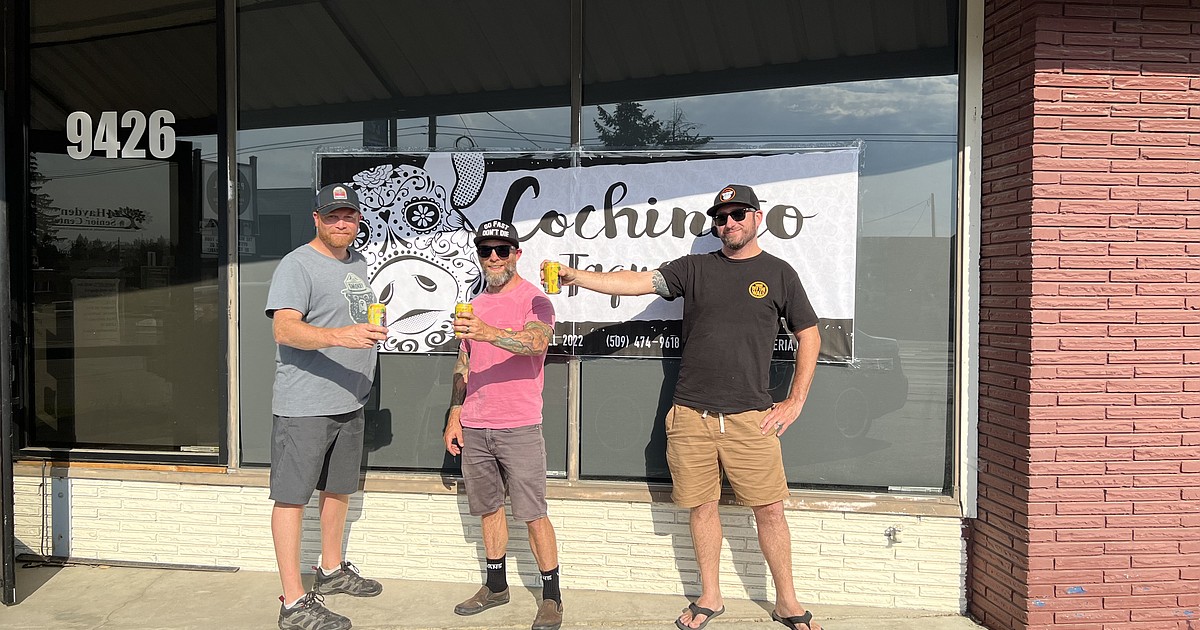 Cochinito Taqueria will soon be opening at 9426 Government Way across from Ski Shack in Hayden.
The restaurant specializes in eclectic chef-made tacos and Mexican-inspired cuisine with a Northwest influence. With a fast casual concept, customers order at the counter before finding their seat. With a full bar, the place can accommodate 80 people with meals on site, take-out meals and possibly delivery and catering.
Owners Travis Dickinson, Justin Curtis and Leon Josaitis are open from 11:30 a.m. to 9 p.m. They've had a place in Spokane for nearly five years. Visit www.cochinitotaqueria.com.
Donohoe Construction in a new location on November 1
Building in northern Idaho for 22 years, and now at 2033 Seltice Way, the family-owned contractors offer commercial and residential construction and have expanded into excavation with 24 full-time employees.
Open from 7 a.m. to 5 p.m. on weekdays, the new place includes several offices and a shop area. The owners are Rich Donohoe, David Donohoe and Jake Donohoe. Phone 208-660-7649. Visit www.donohoe-construction.com.
Golden Rule Brake arrives in Post Falls
Planning to debut in December, Golden Rule Brake arrives at 3826 E. Seltice Way near the intersection of Interstate 41 and Interstate 90 in Post Falls.
The company's fourth location will offer brakes, shocks, struts, CV joints, ball joints, tie rods and alignments.
The Dallas Low family has owned the business since 1954. The new location is expected to open in May. Visit www.goldenrulebrake.com.
Burger Dock's 'grand opening' wraps up today
With treats and special prizes, Burger Dock's grand opening ends today downtown at North Fourth Street and Lakeside.
With its first location in Sandpoint, it offers original burger recipes, hand-cut potato fries, salads, shakes and drinks to order dine-in, take-out and online.
With modern rustic decor with nautical touches, multiple sports TVs, and indoor and outdoor seating, hours are 11 a.m. to 8 p.m. (closed Wednesdays) and Fridays and Saturdays until 9 p.m. . Visit www.theburgerdock.com.
Now the Tidbits
Coeur Climbing Company leases a large warehouse at 764 S. Clearwater in the Riverbend Commerce Park in Post Falls to open in early 2023.
The fourth Kootenai County location of Dutch Bros. Coffee will soon be built at 6299 W. Pointe Parkway (next to Panda Express near Cabelas and Walmart) west of Post Falls.
A new building for Anthem Pacific Homes is being constructed on Highways 41 and 16 in Post Falls. Three of the four 1,800-2,000 square foot suites are available for flexible office warehouse rental through owner Jeremy Voeller at www.anthempacific.com. Phone 208-981-0448.
A large new building with River City Urology on the second floor is under construction at Spokane Street and Third in Post Falls. The urology business is growing from Ironwood in Coeur d'Alene. With completion slated for Feb. 1, the first floor will have a chiropractor and 3,500 square feet of space available through Realtor Josh Beebe of Coldwell Banker Schneidmiller Realty at 208-699- 7980.
There are rumors of a North 40 in Rathdrum and a Costco in State Line.
The former Wells Fargo building at Sherman and Third will have a Highlands Day Spa, art gallery and office for owner Pepper Smock's Windermere-Coeur d'Alene Realty.
Watch for the November opening of new buildings called Appleway Quarter at 271 and 291 E. Appleway between Baskin-Robbins and Verizon. Building 271 will house the Wellness Bar and has 1,200 square feet of retail space. Building 291 will have Hometown Chiropractic and Chip Cookie.
Rivaura Estates Winery will be in the former Live For Blue building at 505 E. Sherman.
Uncorked With Friends will take place at 9443 Government Way in Hayden.
Watch for Prime IV Hydration & Wellness at Ironwood Square.
A large building is under construction at 9046 W. Prairie Ave., near Greensferry, for the Mountain View Business Center. Contact Royce Johnston at 208-691-3054 for team rental information. For more information on the lease, contact Logan Rude at 208-651-8825.
The groundbreaking took place on Thursday for a Class A professional office building on the northwest corner of the intersection of Prairie Avenue and Ramsey Road in Hayden.
A new Metro Express car wash will be built where the "Coming Soon" sign is at the intersection of Lancaster Road and US 95 in Hayden.
Burke's Restoration is building a new location at 3801 W. Riverbend Ave. in Post Falls. Details soon.
The Thomas George building planned for the corner of Third Street and Front Ave., will be 18 stories mixed with commercial space on the first floor and 60 condominiums above.
Watch for details on new buildings being constructed for the offices of Rogers Burgers on Government Way and Caliber Collision by Metro Car Wash in Post Falls.
Watch for commercial construction west of Hwy 41 between 16th and Horsehaven in Post Falls.
Many of the 16 retail spaces are available in the future Prairie Crossing Mall at the northeast corner of Highway 41 and Prairie Avenue.
A new building for Etco Services is under construction off Huetter north of Seltice and I-90
The PACR office building is under construction at 1857 W. Hayden Ave.
A new Pizza Hut will be in Hayden.
The Mill will be a four-storey mixed-use building at Government Way and Mill Avenue with retail (including the Ten/6 restaurant) on the ground floor and 43 apartments above.
The Orthopedic Physical Therapy Institute (OPTI) is constructing a new building in Hayden.
Cornerstone, a four-story commercial and residential building, is under construction in Riverstone.
Bruchi's quick service restaurant will soon be in a new building north of the corner of Highway 41 and Mullan Avenue.
Watch for the opening of the Vantage Point Brewery across from Michael D's Eatery on Coeur d'Alene Lake Drive.
Gentlemen Sausages will soon be in the former Abi's Ice Cream location at 112 Fourth St.
TownePlace Suites by Marriott Hotel is being built where the Outback Steakhouse used to be, at the southeast corner of I-90 and Northwest Boulevard.
Watch for an Indigo Urgent Care building under construction next to Starbucks in the Crossroads Center near Ramsey Road.
A new commercial and residential building, Midtown Center, is under construction at 821 N. Fourth St.
HomeTown Family Chiropractic will soon be opening at 291 E. Appleway.
A spy says a restaurant will be built where Atlas Road meets the Spokane River.
Watch for many new places coming to Athol.
Berry Bay Smoothies will be at 8150 N. Cornerstone Drive in Hayden.
A few blunders in English: "exact same" is redundant, the words "…ward" have no "s", a comma comes before an end quote (TV's "Jeopardy!" clues always have this wrong), and TV weather forecasters often use the wrong "farther" (meaning "more") instead of "farther" (meaning distance).
Contact Nils Rosdahl at [email protected]