Latina Winemaker in Livermore – NBC Bay Area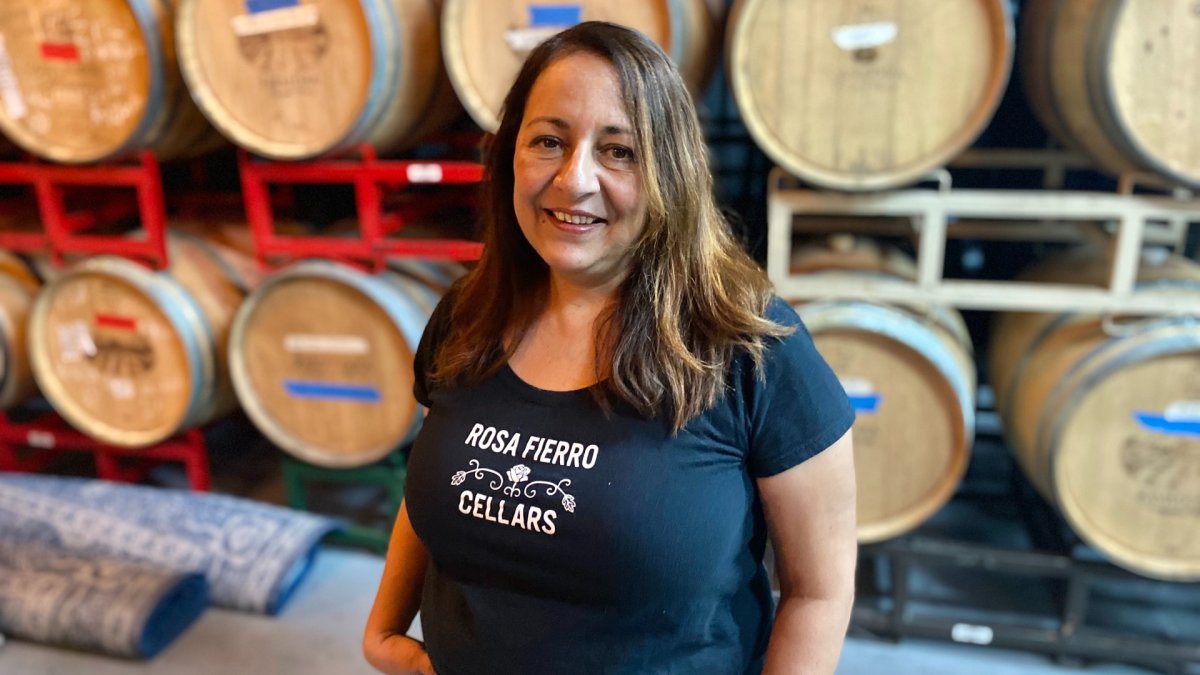 As the bin filled with light-colored grapes began to tilt, Rosa Fierro used a rake to help them slide down a conveyor belt en route to the juicer. She tasted the fruit inside her Livermore cellar, kicking off what she believes to be her 11th vintage.
Just a few years ago, at this time of day, instead of jeans and a t-shirt, Fierro would have been head to toe in work clothes to get to her job as an assistant. lawyer at a law firm in San Francisco. But after learning how to make wine from her winemaker friends and falling in love with wine making, she went all out.
"Two years ago I found the place next door and quit my job and here I am," Fierro said.
Fierro has opened Fierro Cellars along the Vasco Road row of vineyards, adding a brick-and-mortar tasting room to its operation. She gave her wines names reflecting her Latino culture, such as quatro and de la luna. She used her own impressionistic photograph of vine leaves at the bottom of barrels as wine labels.
"It really is a dream come true, owning my own winery and running it all myself," Fierro said.
Although his name is on the bottle, Fierro regards his winery as a family business. His mother works the tasting room. Her son helps with the crush. And it also counts among its close relations the winegrowers of the region.
"We get together and have these big wine tastings so that we can guide each other," she said.
Fierro's family came from Spain and Mexico, settling in New Mexico before it was even part of the United States. Fierro herself was born a short drive away in the Castro Valley. She absorbed Bay Area culture – took a job in town – never imagining her path would lead to the vineyards of Livermore, to a room filled with oak barrels full of wine, setting her clock to the harvest .
"For the love of grapes, just keep blowing," she said, pulling a bunch of grapes onto her belt.
Fierro's first foray into winemaking came through wine tastings. She worked in a tasting room and started making friends with winemakers. She was especially thrilled that they asked her to help with the crush. She was helping a friend prepare a batch when the call came.
"One night I drank too much and we pressed port in the garage and I was totally addicted after that," Fierro said.
Long hours, heavy lifting, work moving barrels don't bother her. She is chasing a dream.
"It takes a lot of courage to quit a well-paid job as a paralegal to open your own winery," said her son Jeremy Kontelis. "So yeah, there's definitely admiration there."
In everything Fierro does, culture and heritage are integral. She calls the family whenever there's a new vintage to try. She feels most comfortable when the family is around and making holiday tamales or just sharing a meal. But there was a time when his heritage felt out of place with the rest of the world.
"When I was little, my school told my family not to speak Spanish to me because they wanted the children to fit in with English-speaking children," she recalls. "So I feel like I've been stripped of a lot of my heritage."
In an industry run by men, Fierro stands out. As a Latina winery owner, she forges new ground, even if the old tropes keep coming back.
"People came up to me asking if I was the housekeeper," she said, shaking her head.
Over the past few years, Fierro has won numerous awards for her wine and her accomplishments as a female winemaker, earning the respect of her fellow winemakers in the region.
"I think she loves making wine," winemaker Darin Winton said. "And once you meet people who really love making wine, you'll see their passion and you'll see them grow."
Fierro does not plan to grow too much. She enjoys tending to her grapes, skillfully shaping their flavors into prized wines.
As she watched the last of her tubs of granache grapes travel down the conveyor belt to the juicer, she had no regrets about giving up her old career to pursue her passion. Each bottle seemed to reflect his journey.
"Bottles of wine are just filled with love, hard work and passion," she said.