NSW Riverina Foleys Corner Vineyard for sale by @Realty's Cappello & Co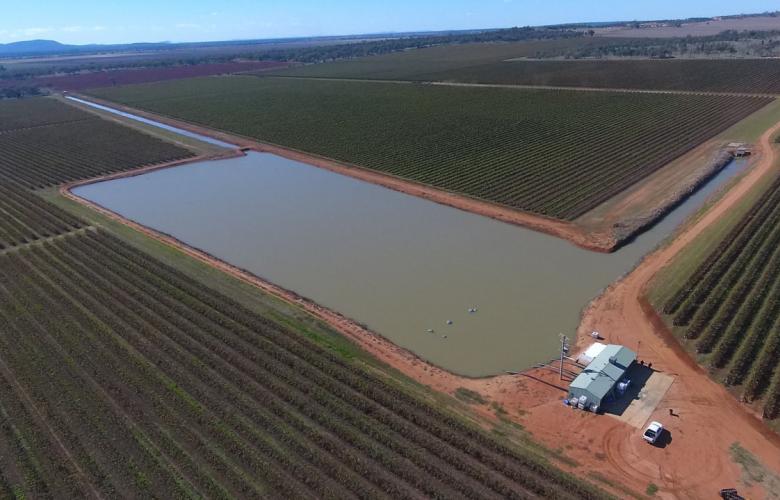 A multi-million dollar vineyard – which has produced award-winning wines in New South Wales' largest wine region – is expected to fetch more than $16 million after hitting the market.
The property, Foleys Corner Vineyard at 3990 Irrigation Way in Widgelli in the Riverina area, is marketed by Gavin Cappello, of Griffith-based Cappello & Co, which is backed by @realty.
Foleys Corner Vineyard covers 316 hectares, of which 246 hectares are planted with wine grapes, a 1600 m² machine shed, an executive residence, amenities and a 40 megalitre dam with a central pumping station.
It is important to note that the property is offered with 1,000 megaliters of high security water and 1,500 delivery rights to ensure safe water distribution.
Mr Cappello said the property has a rich heritage of planting award-winning vintages over the past 10 years.
"It's an iconic property with red silt soils and a limestone base, similar to the Coonawarra wine region," he said.
"As the industry faces challenges due to high sourcing levels and tariffs imposed by the Chinese government on exports to China, the opportunity to purchase a property with this heritage and these characteristics does not arise. present only once in a lifetime.
"The first plantings were of Merlot grapes in 1993 and since then the vineyard has expanded to encompass 600 acres of quality grape plantations producing award-winning wines."
Mr. Cappello said the vineyard, which supplied the Burton winery in Yenda, had won numerous awards for its Metal Durif, Metal Viognier and Sauvignon Blanc wines.
"The water rights alone are worth over $8.5 million and the land itself the same amount, which gives some idea of ​​the value of this property in the Riverina area."
Mr Cappello, who is selling the property as part of an expressions of interest campaign ending July 30, said the agricultural and residential housing sectors continue to grow in the Riverina area.
"CoreLogic's May Home Value Index shows home prices jumped 28.5% in the Riverina area over the past year," Cappello said.
Mr. Cappello said he expected the market, particularly residential real estate, to remain strong over the next two years due to a shortage of supply.
"We are behind the big cities in land supply by about two years, so the market will be consistent," he said.
"This healthy residential sector complements the growth of agriculture, which is the region's largest employer.
Mr Cappello launched his agency, Cappello & Co, in December last year after a successful career as a property specialist for a major franchise.
"I have extensive experience in agriculture, which helps me tremendously when marketing these properties," he said.
"But Cappello & Co is also very focused on marketing a wide range of properties, including residential, commercial and land properties."
Mr Capello signed up for @realty's OASIS platform when he started his own business.
OASIS – which stands for Online Agency Support and Integrated Systems – was launched by @realty in 2020 to allow boutique real estate agencies and single operators to operate under their own brand while accessing @realty's back-end support systems , including legal services, regulations, marketing, graphic and website design, CRM software, administrative support and more.
"It's been very rewarding to have my own business because I can make my own decisions and I'm able to tailor sales and marketing campaigns to each client," Cappello said.
"OASIS has been great in providing extensive support, from administration to website design, while allowing me to develop my own brand."
@realty CEO James Taylor said the Foleys Corner Vineyard listing is a testament to Mr. Cappello's expertise and skill as one of the premier agents in the Griffith area.
"We are proud to support Cappello & Co as it becomes a leading agency in the Riverina region," he said. "OASIS is a great platform as it is very comprehensive and covers everything an agent needs."
To request a copy of the information memorandum, please contact one of Gavin Cappello's marketing agents, of Cappello & Co, based in Griffith, using the contact details below.