SNEAK PEAK: Your list of everything to try at the first Kalahari Food & Wine Fest on November 20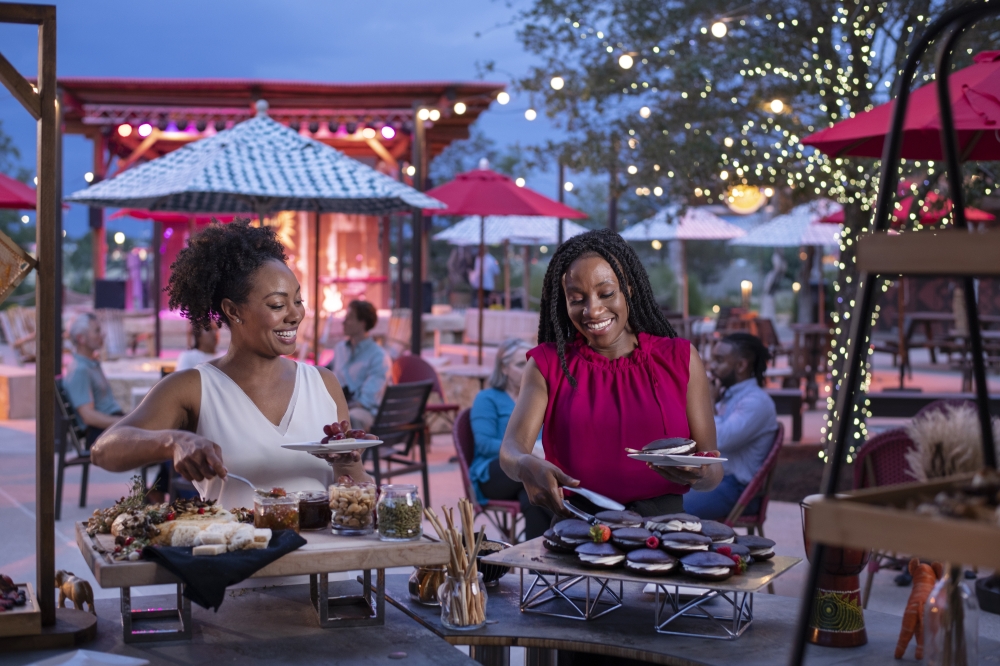 A new kind of festival is coming to central Texas. Fusing culinary art, local musicians and Texas wine, beer and spirits in an elevated atmosphere, Kalahari Resorts and Conventions will host its very first Food and wine festival 12 p.m. to 4 p.m. Nov. 20.
A food and beverage company at heart, Kalahari Resorts in Round Rock, Texas has seven restaurants with an original concept located in the huge property: Double Cut Steak House, Sortino's Italian Kitchen, Redd's Piano Bar and Lounge, B-Lux Grill & Bar, Cinco Niños, Baobab Social and The Last Bite.
Upon arrival, guests will check in at the festival center outside Amatuli Market. Each festival-goer will receive a map to explore the resort, which doubles as a stampable passport for each restaurant's carefully curated tasting plate.
"We organize the festival at home. We're the experts on our space, and it's going to show," said Brandon Wise, Deputy General Manager of Kalahari Resorts. "The things we'll be able to execute on the culinary side will be so much higher than what people are used to seeing at festivals. [Guests] will interact directly with the executive chef of each restaurant.
In addition to flair bartenders, who entertain guests with the manipulation of bar tools, each restaurant will each offer a different signature cocktail. To provide customers with a true taste of Texas, Kalahari has partnered with 47 local beverage vendors to also provide handpicked wines, beers and spirits throughout the resort.
"The [beverage] the people who come, they're hyper-passionate, they're local, they're Texans growing their business and being successful here," Wise said. "[Guests] will feel the passion and love behind it all.
With the exception of a few national brands like Red Bull and Patrón, the festival is entirely hyperlocal – featuring sips from cities like Austin, Fredericksburg, Waco and Dallas. As a keepsake, each guest will receive a wine glass engraved with the Kalahari Food & Wine logo that they can choose to use at the tasting stations.
">
"We wanted to partner with the big ones and help the little ones be seen, because that's so much what Austin and Texas is all about," Wise said. "We went to Fredericksburg and spent two days there and selected the people who are here. So we've done a lot of work and thought about who a supplier is. »
Foodies who follow the celebrity dining scene can also expect to try bites by Michelin Star and Top Chef Alum John Tesar. The Texas native, who owns Knife in Dallas, Outer Reef in Laguna and Knife and Spoon in Orlando, is making more than just a special appearance at the festival.
"He's going to work here with our culinary team to produce food. He will be there as acting chief. He doesn't just walk around; he cooks food for everyone," Wise said.
Live entertainment will not be lacking at the festival. Guests can find music wherever they go, as local musicians will be spread throughout the resort performing a variety of musical genres.
"You are going to find a high-energy atmosphere in Amatuli. You're going to find more Latin influence at Cinco [Niños]. You're going to find a bit more house music in the lobby. It's all kinds of different genres," Wise said.
Kalahari is also a partner of sparkling soda water for an activation and entertainment area with lawn games and attractions. No matter where guests are in the resort during the festival, a surprise awaits them around the corner.
"We have people roller-skating in the lobby. We have a few young women wearing these metal dresses full of champagne glasses walking around," Wise said. "There's a lot of interaction, so [if guests] want to sit down and be low key, they can – but this event is going to be high energy, high interaction everywhere.
Tickets cost $75 and include tastings from Kalahari culinary experts, unlimited sips from the 47 wine, beer and liquor vendors, live music throughout the resort and the souvenir wine glass. Below, check out our list of everything to try during the festival.
Double Cut Steakhouse and Bourbon Bar
Wine and bourbon aficionados are sure to visit the many winery and distillery vendors based in this contemporary steakhouse during Food & Wine Fest.
To eat: Grilled House Certified Aged Angus Rib Steak with Truffle Confit Potatoes and Mushroom Sauce made with hand-selected Waco Balcones Whiskey
Beverage: Old-school smoked signature
The founders of Kalahari Resorts & Conventions, Todd and Shari Nelson, began their entrepreneurial journey with a pizzeria in Wisconsin Dells. Today, Sortino's pizza is made with the same flour, cheese and sauce recipes the Nelson family has used since 1979.
To eat: Hand-Rolled Potato Gnocchi with Lamb and Mushroom Stew
At this live entertainment venue, expect to be wowed by flair bartenders and a drink with a wad of cotton candy.
Beverage: Cotton candy cocktail made with Effen Black Cherry vodka, fresh fruit juice and pink cotton candy
Using fresh, local ingredients, the B-Lux Grill & Bar is a must. Normally a burger and a shake joint, Wise said the chefs will show off their culinary skills on festival day with a Vietnamese dish.
To eat: Banh Mi Vietnamese baguette sandwiches with duck
Beverage: Dragon Berry Mojito
Named after the Nelsons' five adult children, Cinco Niños is a Tex-Mex restaurant with a modern Mexican and tequila bar. While trying each of their street tacos, customers will enjoy live music from Latin-influenced musicians.
To eat: Street Steak Carnitas, Barbacoa, and Tacos with Mexican Street Corn
Beverage: Margaritas
Every design element of Kalahari Resorts Texas is inspired by African culture, wildlife and nature – and Baobab Social is no exception. Take a trip to the other side of the world in its bar, which is centered around an African baobob sculpture, and the outdoor dining area.
Beverage: Inside, flair bartenders will serve espresso martinis. Outside, festival-goers can roast marshmallows on the fire pit at an interactive s'more martini-making station.
Greedy? The Last Bite is a candy and dessert shop specializing in hand-dipped chocolate, caramel apples, homemade fudge and ice cream. During the festival, several chocolate sculptures will be filled with take-out treats prepared by the Executive Pastry Chef at Kalahari Resort Texas.
To eat: Nut Candy, Crispy Pecan Butter Bars, Dulce de Leche Truffles, Homemade Nougat, Espresso Chocolate Candy, Candy Crack, Chocolate Pecan Cake, and Honey Lavender Macarons.
The story above was produced by the Community Impact storytelling team with information provided solely by the local business as part of their purchase of "sponsored content" through our advertising team. Our promise of integrity to our readers is to clearly identify all CI Storytelling posts so that they are separated from the content decided, researched and written by our journalism department.