Sommelier Talk: the Spanish canvas of Alex Perez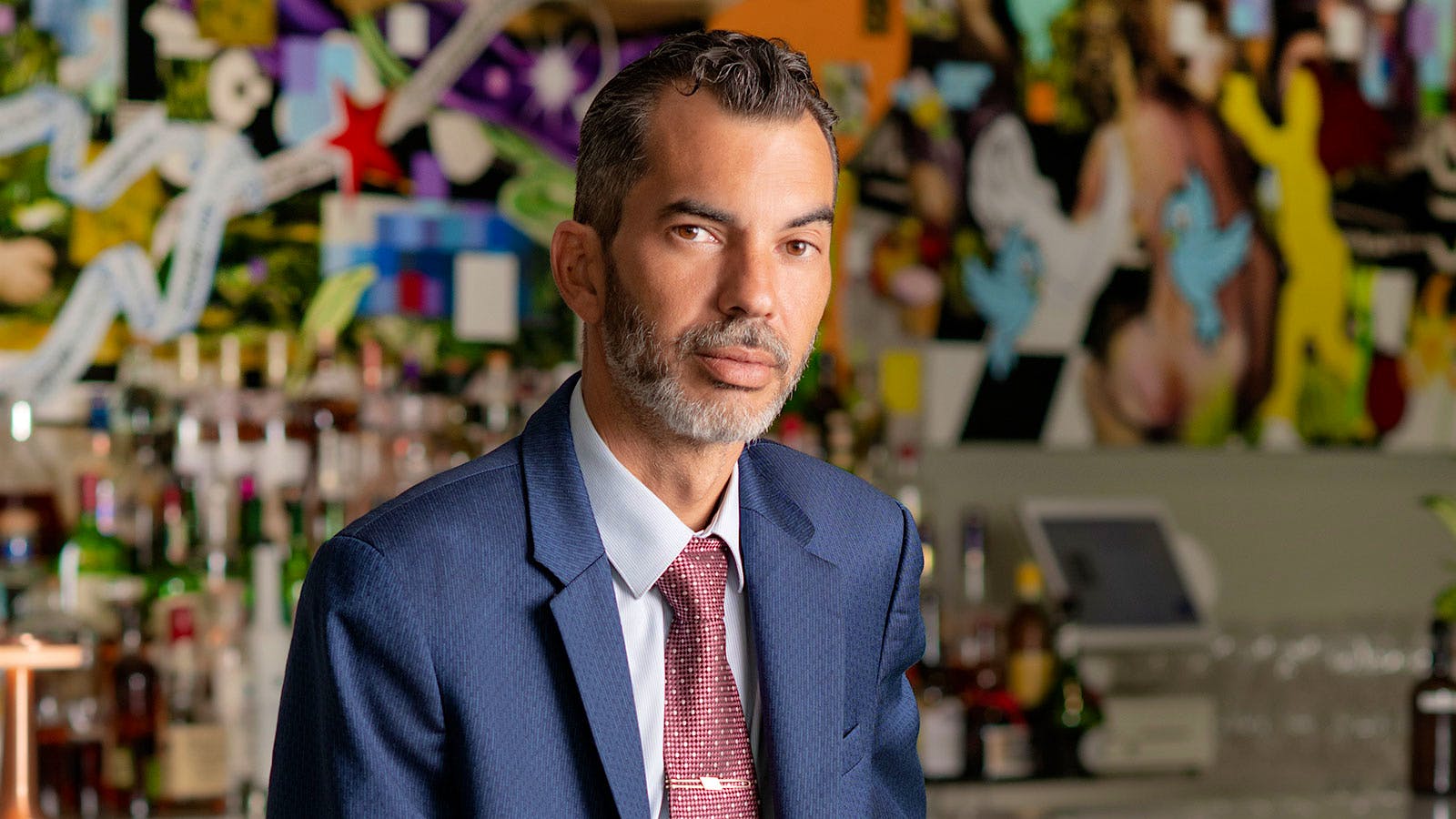 Before Leku was founded in 2019, authentic Basque cuisine was almost non-existent in Miami. Located in the Allapattah district of the city, the new wine spectator The Excellence Award winner shares space with the Rubell Museum, one of the largest private collections of contemporary art in North America. Despite the pandemic, which forced the 148-seat restaurant to postpone its opening and run at half capacity from the start, Leku quickly became a hotspot for adventurous wine drinkers, collectors and famous names.
General Manager and Wine Director Alex Perez weaves his way around the tables and past the restaurant Guernica– an inspired fresco every evening, familiarizing new guests and regulars with the gems and rarities of its list of 245 selections, 80% of which are dedicated to Spain, such as R. Lopéz de Heredia bottlings, CVNE Imperial Gran Reserva and Albariños from old vines.
But when Perez got his start in the hotel business, wine was not on his mind. Born and raised in Havana, Cuba, Perez dabbled in mojitos, daiquiris and cocktails during his training in the late 1990s, until a mentor showed him the way to wine. Perez quickly rose through the ranks in the restaurant industry, before having to rise again as an American immigrant.
Perez recently met wine spectator Shawn Zylberberg at Leku (meaning "place" in Basque or Euskara) and talked about the bottle that changed his life, Miamians' curiosity about white wines, and his passion for being on the floor every day.
Wine Spectator: How did your restaurant career begin?
I started in small restaurants in Havana, Cuba around 1997, and ended up at El Patio de la Catedral in 2000, which was one of the most important restaurants in the city at that time. My first interest was rather bartending, so I studied bartending and service in order to work in tourist restaurants. A colleague of mine had won the IBA (International Bartenders Association) World Cocktail Championship in 2000 and working with him got me interested in cocktails. We were young children and it was exciting to make drinks together. In the beginning, Cuba did not have a great wine culture; it was the capital of the mojito and the daiquiri.
And how did you switch to wine?
I grew very quickly in the industry and became the youngest captain of my entire server company at El Patio. One of my mentors, Reynaldo, is the reason I fell in love with hospitality. He was operations manager at El Patio and gave me opportunities and pushed me to go to sommelier school. He said, "I've signed you up for the sommelier course and we're going to open a bottle of wine so you can get a feel for what you're getting into. He opened a Bodegas Vega Sicilia Unico from 1989. I still remember the taste of that bottle, how balanced and incredibly perfect it was. It was a changing moment in my life. After that day, I tasted and read everything I could about wine.
Cuba in the 90s didn't have much access to these important wines. Options were limited and there were two to three major Spanish brands controlling the market, along with a bit from Argentina and Chile at that time. The most available wine was Concha y Toro. Freixenet was another strong brand, and they co-sponsored the sommelier school with the National Sommelier Association. Every tasting we did was around Familia Torres or Freixenet, which were predominant wines there, along with some Port and wines from Marqués de Cáceres.
I worked at El Patio from 2000 to 2008, then left the country to go to Neuquén, Argentina for a year, where I visited my first winery, Bodegas del Fin del Mundo.
And you continued your career in the hotel business by coming to Miami?
I came to the United States in 2009 and Miami made sense because I had family here. I was like, 'Do I want to continue in restaurants? Why not?' There is something about this industry that appeals to me. But I barely spoke English at the time. In Argentina, I started again, and when I arrived here, I had to start from scratch too. I tried to get into management in Miami, but it was impossible. When you get here you realize that your English is very basic [laughs]. I worked in a few Cuban restaurants in 2009, then I started as a busser in a Mexican restaurant that opened in 2010. I worked there for a year and became close to chef José Mendín. I joined his restaurant business Pubbelly and spent eight years opening Miami concepts such as Pubbelly Sushi. Then I had the opportunity to open the Leku project at the Rubell Museum as general manager.
Leku's design is intended to extend the feel of the art museum to the dining experience. (Zack Pearl)
What was it like to open during the pandemic?
The idea was to start the restaurant with dinner service, then add lunch service and grow from there, but 2020 has arrived. We were never able to open on time. At the end of June 2020, the museum decided to open its doors in July and wanted us to do it together. At the time, outdoor dining allowed us to do this. We were only open for lunch and that changed the dynamic of everything.
How?
It was my first restaurant where I had fun selling white wine. It was lunchtime in the summer, outside, and everyone was trying to drink white. I've always loved white wine, but from a business perspective, our Miami clientele leans towards red wine, even when it's 90 degrees outside. But here it was totally different.
We have a different offer of whites, including Basque wines Txakoli, Albariño, Godello, Priorat whites, Rioja whites, things that I had never been able to sell before. It was always a hard sell, something you have to explain to customers. But people came and still come to try new wines. In this city, Spanish whites are generally considered cheap and easy to drink. But I put a $200 bottle of Raúl Pérez's Sketch on the menu to see if it would sell, and it didn't last a week. We ended up getting everything the supplier had.
In the beginning, white wine was king. The lunch outside was conducive to this, as well as the sauces and the seafood, which went well with this acidity. But once we started opening for dinner, we saw the trend towards traditional red Spanish Riojas. The two main trends of our customers are big, bold Tempranillos compared to Bordeaux drinkers, and then adventurous wines like those of Raúl Pérez.
Do you see Miami's wine scene changing?
There are days when you see every table with a bottle of wine. I believe this is a growing trend in Miami. A large portion of our clientele is made up of people who have recently moved to Miami from New York, Chicago and California. [People from] other regions also come here and experience Miami's culture and its wine and spirits expansion. These national and international wine collectors move their collections here and bring more of this wine culture to Miami. It's not that there weren't before, but a lot of those people who have become our customers bring their passion for wine to Miami and challenge you to make the lists more interesting and give you a reason to provide those hard-to-find wines, adding depth to the wine list. This created a challenge. Last year we received 10 cases from Bodegas Aalto. I thought it would last us all year and it lasted two months [laughs]. We also worked very hard to get Bodegas Mauro's Godello on the menu, a wine that was not imported and we pushed for our customers.
How would you describe your clientele?
Up to 40% of our clientele are Spaniards who have become regulars, some of them residing in Miami. Tourism represents a maximum of 20% of our clientele, so it is a very local restaurant. But chefs such as Francis Mallmann and Paul Liebrandt have also become big Leku fans, and Queen Sofía of Spain visited us last month.
What interesting wines have you opened recently?
We opened a 1976 Viña Tondonia the other night. It was amazingly good and one of the best wines I've tried in my life. One of those things that also appealed to me was a 2001 Rioja Alta 890.
As the wine director, are you always upstairs?
Yes. Being on the ground is what I like the most. What is most important to this restaurant and our clientele is that I constantly listen to the community, as well as current market trends of what my clients say they would like to experience. This doesn't happen behind a desk, but by interacting and building relationships with our customers. People who come expect to see me on the floor and offer them something to try.