What to do in Bodrum, Turkey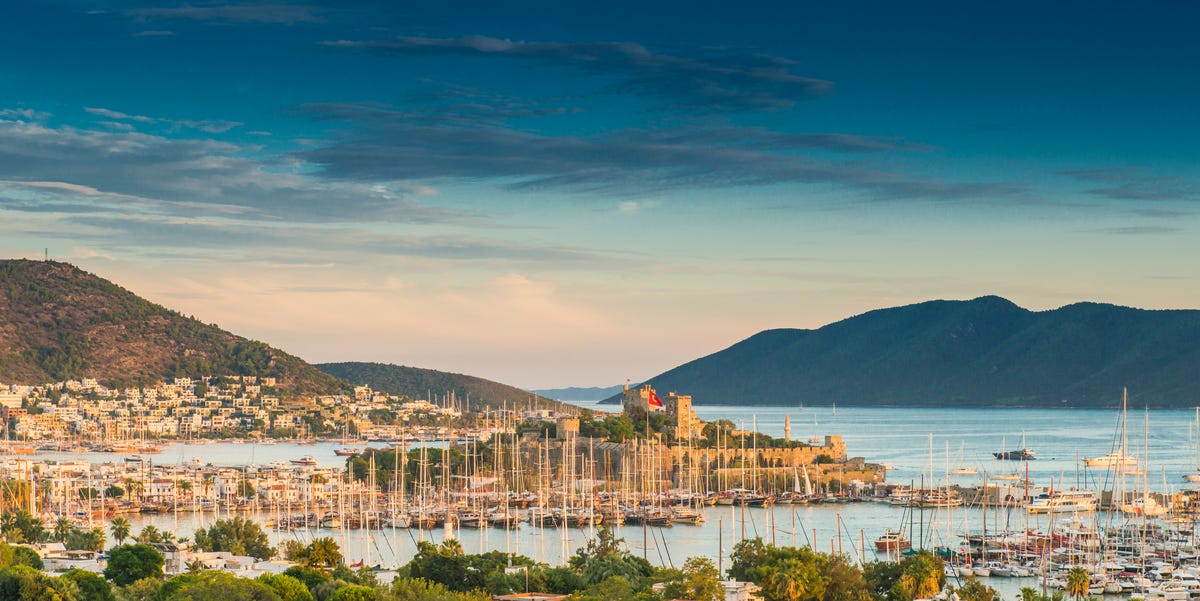 If you suffer from an insatiable wanderlust, but don't want to head to the Amalfi Coast or Santorini like everyone else on Instagram, you've reached the right corner of the internet. While there's certainly nothing wrong with these classic vacation spots, sometimes you want to explore a different place with a totally unique culture. It can be hard to find an amazing city that isn't teeming with other American tourists, but I think I've officially discovered the best under-the-radar destination for 2023: Bodrum, Turkey.
Bodrum is a bustling seaside town in southwestern Turkey, formerly known as the ancient city of Halicarnassus. Although you can (and should) immerse yourself in its rich history (after all, it's still home to one of Seven ancient wonders of the world), there are also many wonders of today to discover when you arrive. From local craftsmanship and amazing spas to top-notch yachting and incredible food, there truly is something for every type of traveler. Here, my guide to an unforgettable holiday in Bodrum.
What to do in Bodrum, Turkey

Book one of the suites or villas at Susona Bodrum, LXR Hotels & Resorts for the perfect blend of five-star amenities, unparalleled hospitality and downtown Bodrum convenience. The luxury property is tucked away behind covered walkways and opens out to panoramic views of the sparkling Aegean Sea. There is no shortage of natural beauty here; vines of bright pink bougainvillea creep up the white walls of the villa while wild olive, fig and pomegranate trees grow unrestrained around the property. You'll also see superyachts and sailboats dotting the turquoise waters of Torba Bay, which stretches around most of the hotel.
Once you arrive, relax after a long day of travel at the hotel The soul of the spa. Make an appointment for a traditional hammam (also called a Turkish bath). During this ancient Ottoman body ritual, you will lie down in the center of the room on a large slab of marble while you are rubbed with a specific glove called "kassa". This exfoliating treatment removes dead skin cells to reveal baby-soft skin (read: You'll feel like a molting snake). Then you will be gently rinsed with lukewarm water, massaged with a floral incense scented foam, then rinsed again. The hammam goes beyond any spa treatment I've ever experienced – at the risk of sounding a bit sacrilegious, it feels almost baptismal. You'll leave feeling renewed and relaxed, so much so that you might want to return to your villa for a cat nap or soak up the sun in one of the hotel's luxury cabanas. Frankie Beach Club.
If you fancy staying nearby for dinner, try malva, the hotel's upscale restaurant named after the perennial mallow flower that grows around the property. Sit in the outdoor dining area where you will enjoy beautiful panoramic views of Torba Bay and a gentle breeze from the water swinging the rattan lanterns above your head. Enjoy the incredible, hyper-local menu (it's not just a restaurant buzzword here; most of the vegetables, tomatoes and herbs are actually grown on site) and let the sommelier expertly guide you to your next glass of wine. He provided delicious local choices that complemented everything from fish and tomato salad to rice pudding with coffee ice cream (a dessert I still crave regularly). For a nightcap, head to Malva's cocktail bar – they've got all the classic ingredients, but the mixologists also know how to whip up a creative and delicious drink if you're feeling adventurous.
The next day, fuel up for a day of exploration with a traditional Turkish breakfast and coffee at the Ezi. Get in the car and head to Etrim for a guided tour of the village and Etrim Hali rug (you can arrange transportation and this tour with the LXR Hotels & Resorts concierge team in advance; they pride themselves on connecting guests with the local community through culturally immersive experiences). Although only 24 km from Bodrum, Etrim is a nomadic mountain village and feels like entering a totally different world. You will see old dwellings filled with stone hearths, clay pots, metal farming tools and copper kettles, while cows, roosters and dogs roam the streets and find shade under kilim-draped trees and wild cacti.
Etrim is rural and untouched by modern society, but the village is known nationwide for its incredible craftsmanship. In fact, it moved me a little to see artisans seamlessly knot and weave hand-spun threads into kilims and rugs with their deft and nimble fingers. These women and those before them wove rugs using this method for hundreds of years. They still incorporate the same time-tested techniques like yarn dyeing with natural elements like peach leaves, nuts, herbs and onion skins to achieve their vibrant colors. You will also see them spinning long strands of silk from the cocoons of worms harvested from the mulberry trees in the village.
Each rug also features different symbols that might be unique to a specific family or village, so when you buy these beautiful rugs, you are also buying a piece of that weaver's local history and culture. Some of these rugs can take months or even years to make by hand, so when you see the piles of rugs and kilims stacked on the ceiling in the showroom, you can't help but think of everything. the time, effort and love that went into making each one.
After your visit to the village and Etrim Hali, you'd be hard pressed to leave without a rug (I actually purchased the vibrant blue and turquoise wool and angora rug pictured downstairs), but I promise you it'll It's a travel keepsake you'll treasure for years to come.
After your adventures in Etrim, head to Karnas Vineyards for a food and wine pairing dinner. Although the family winery is known for its long-lasting wines and its many olive groves, the main building also has a beautiful architecture inspired by ancient Roman cellars. Admire the spectacular views as you dine on the terrace – the generally verdant land appears almost golden at sunset. Don't forget to buy a few bottles to take home with you; I thought the rosé was especially juicy and crushable for the warmer months.
The rest of your stay in Bodrum is truly the dealer's choice – if you like yachting, fishing or sailing, Torba Bay is a lovely place to spend a day on the water. There are also plenty of islands and coves to explore nearby, and the cool, tranquil turquoise water is ideal for swimming when you need a break from the Aegean sun. If you want a faster pace, you can head to downtown Bodrum for local cuisine, lively nightclubs and great shopping. I recommend skipping the tourist shops and heading straight to Yavuz Sandalet for a pair of handmade leather sandals and popping over to Zeynep Doğal Ürünler for scented soaps and funky local art.
If it's market day (usually Tuesday), take a special trip downtown to people-watch and stock up on souvenirs. Be warned: you have to walk past fake Chanel bags and counterfeit polo shirts to get to the genuine stuff, but with a little patience you'll find things like kassa mitts, hammam soap, Turkish sweets, tea in leaves, culinary spices, evil eye jewelry, handmade linens, Turkish towels, etc. Your new favorite word on market day will be "pazarlık" (pronounced like pazzar-lick), which means "lower the price" or "negotiate with me". Most salespeople will work with you, especially if you try to speak a few words in Turkish.
I felt extremely safe walking alone in downtown Bodrum and the locals were very hospitable when I needed directions or help finding the best place to eat a kebab. I also think it's worth wandering around a few alleys to see a more authentic side of the city. A block or two from the main road you will find cobbled streets with cafes and markets selling seasonal produce, freshly caught fish, local cheeses, olives and wine. I recommend packing a picnic or eating a little at each stop along the way before visiting Bodrum Castle and the Underwater Archeology Museum. Take in the sights and history before heading back to the hotel for a well-deserved rest (or another hammam treatment if you really want to pamper yourself).
There's something about Bodrum's energy that feels enchanting, as if it's about to become the next big thing. I hesitate even to write about this unspoilt destination because few American tourists still know it and I don't want to spoil its incredible magic. It may be the combination of ancient history and rich culture or modern amenities and luxury hospitality, but when you're there, you truly feel like royalty. I struggled to leave, but it was finally time for me (and my very overweight suitcase stuffed with a Turkish rug, wine, sandals, and hammam supplies) to come home. If you ever get the chance to go to Bodrum, hop on the next plane and please bring me with you.