Celebrate Mother's Day with these 10 non-alcoholic vegan wine brands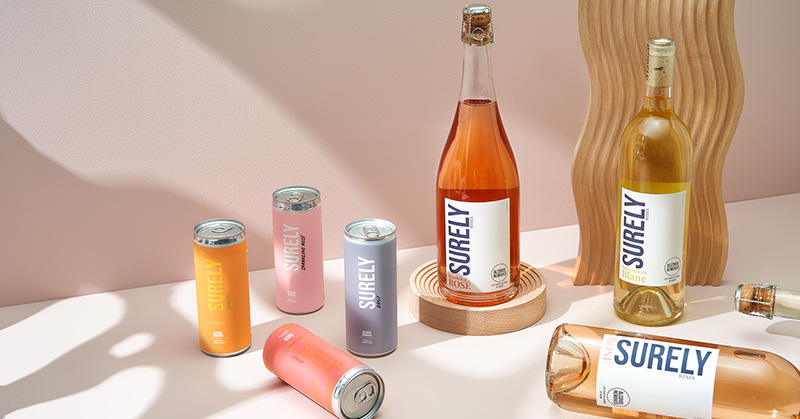 For many, good food and wine are the focus of gatherings and celebrations, especially on Mother's Day. Whether mom chooses to give up booze for health or personal reasons, these non-alcoholic wine brands have just what she needs to make her day extra special. Whether she's a fan of rosé or cabernet, she'll love the care you'll take in selecting her adult drink of the day. Here are 10 non-alcoholic vegan wine brands to try this Mother's Day!
Surely is a non-alcoholic wine brand that uses high quality grapes from various regions of California. The best part is that the wines are also vegan! The non-alcoholic wine brand offers Sparkling Rosé, Sparkling White, Sauvignon Blanc and Cabernet Sauvignon, the perfect addition to any Mother's Day spread!
Opia, a metaphor for wealth and fertility, makes alcohol-free wines from organic and sustainable ingredients. Toast to a life of abundance for Mom with a glass of sparkling Chardonnay, or help her unwind with a bottle of Cabernet Sauvignon from Opia.
This non-alcoholic wine brand offers Bubbly Rosé, Dry Secco and Dry Red Blend, each of which packs all the groove but none of the hangovers. Give mom an 8, 24, or 48 pack of any flavor, or give her a limited-edition Sangria pack from Gruvi, which the brand calls "a Spanish sunset in a can!"
Say hello to mom with a glass of sparkling wine from TOST, a non-alcoholic wine brand that uses simple ingredients like white tea, elderberry and ginger to create tasty non-alcoholic beverages. The brand offers two flavors: TOST Rosé and TOST, which combines white tea, cranberry and ginger. The wines are available in 750 ml bottles or in packs of 4 bottles of 250 ml.
Perfect for the sophisticated mom in your life, this non-alcoholic wine brand specializes in drinks made with clean, certified vegan ingredients that mimic those found in luxury cosmetics or on the menus of fine-dining establishments. . Choose from flavors like Salted Raspberry & Chamomile, Caramelized Pear & Kombu, Toasted Cinnamon & Yuzu, Roasted Beet & Sancho, and Lemon Marmalade & Hibiscus, each priced at $30 per 750ml bottle.
Make mom feel like a star with a bottle of sparkling wine from this women-owned non-alcoholic wine brand. Starla offers three varieties of wine – Sparkling Rosé, Sauvignon Blanc and Red Blend – each of which can be purchased individually or in a set of three bottles. While Starla strives to eliminate all alcohol from its products, there are still traces of alcohol (0.50% by volume) in the bottles.
Noughty makes 100% organic, certified vegan wines that pack all the fun without the morning after headaches. The non-alcoholic wine brand offers two varieties – Sparkling Chardonnay and Sparkling Rosé – both vegan, organic and 100% alcohol-free…a great addition to any Mother's Day table!
Can't decide if you want to give mom a bottle of red, white or sparkling? Pierre Zero has you covered! This non-alcoholic wine brand offers a wide range of red, white and sparkling wines, including Merlot, Rosé and Sparkling White, each containing 0.0% alcohol by volume.
Throw mom a stylish night out with a bottle of Fre, a line of non-alcoholic wines that comes in canned and bottled varieties. Serve mum a sweet treat with a bottle of Moscato, or give her a 4-pack of canned Sparkling Brut.
Carl Jung is a non-alcoholic wine brand with a rich history that dates back over 100 years. Organic wines (Organic Sparkling, Organic Chardonnay and Organic Merlot) are vegan and perfect for moms who enjoy all the flavors of non-alcoholic wine.